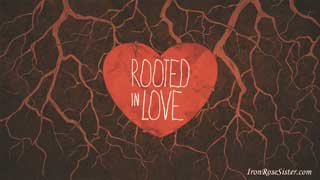 The prayer at the end of Ephesians 3 has always been one of my favorites. The reminder of the depth, length, height, and depth of God's love... that His power is at work with me... and that He is able to do beyond what I can ask or imagine. Wow!
These familiar verses fill me with hope, but the renewal of strength came when I took a longer minute to reflect on the way faith and love are an integral part of making it all possible. Christ dwells in my heart through faith—and that faith allows me to comprehend the vastness of His love. I can even know His love that surpasses knowledge. Mind blown. Re-read these verses with me from Ephesians 3:14-21. May you, too, be rooted, grounded, and established in that love, filled with faith that powerfully works in and through us.
14 For this reason I bow my knees before the Father, 15 from whom every family in heaven and on earth is named,16 that according to the riches of his glory he may grant you to be strengthened with power through his Spirit in your inner being, 17 so that Christ may dwell in your hearts through faith—that you, being rooted and grounded in love,18 may have strength to comprehend with all the saints what is the breadth and length and height and depth, 19 and to know the love of Christ that surpasses knowledge, that you may be filled with all the fullness of God.
20 Now to him who is able to do far more abundantly than all that we ask or think, according to the power at work within us, 21 to him be glory in the church and in Christ Jesus throughout all generations, forever and ever. Amen.