Equipping women to connect to God and one another more deeply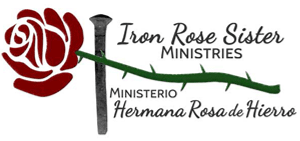 Iron Rose Sister Ministries (IRSM) facilitates Christian sister relationships that will be like iron sharpening iron, encouraging and inspiring each other to be as beautiful as a rose in spite of a few thorns. Its goal is to provide women's Bible studies simple enough for anyone to lead and deep enough for everyone to grow. We also offer conferences and seminars equipping women with the tools to connect to God and one another more deeply. All resources are available in English and Spanish (Ministerio Hermana Rosa de Hierro - MHRH).
Delight in all God has done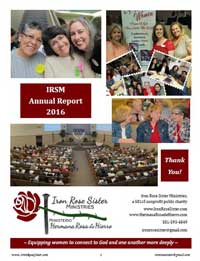 The 2016 Annual Report is complete! Each year, while working on that daunting project, I am humbled to see all God has done through IRSM during the past year. I encourage you to read the report and delight with us in every detail of what God has done and is doing, but here is a brief bulleted list of the things I personally delighted in and remembered while stepping through the process this year:
• God always provides.
• Prayer is powerful.
• The faces of the women as they connect with God and one another tell the story better than any report.
• Only God could accomplish all we have in the time it took.
• Did I really go all of those places last year?