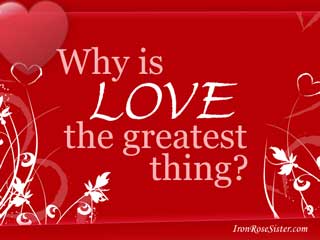 1 Corinthians 13:13 says that the greatest of these is love.
Buy why is love the greatest? Here are a few answers from Scripture.
Love prompted God to send His Son (John 3:16).
Love is the foundation of our priorities (Matt. 22:34-40).
Love sums up the Law and the Prophets (Matt. 22:40).
Love conquers fear (1 John 4:18).
Love forms an unbreakable bond with God (Romans 8:35-39).
Love covers over a multitude of sins (1 Peter 4:8).
Love inspires obedience (John 14:15-24, 15:10).
Love works things together for good, reminding us that God is in control (Romans 8:28).
Love takes wise action with others (Romans 12:9-21).
Love makes things worthwhile (1 Corinthians 13:1-3).
Love is patient, love is kind. It does not envy, it does not boast, it is not proud. It does not dishonor others, it is not self-seeking, it is not easily angered, it keeps no record of wrongs. Love does not delight in evil but rejoices with the truth. It always protects, always trusts, always hopes, always perseveres. Love never fails. (1 Corinthians 13:4-8)
Do you know anything else that can do all that?
Only God, himself. But since God is love (1 John 4:8), that must be part of why love is the greatest.