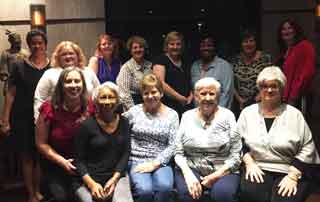 Some of the original Iron Rose Sisters are a group of women who came to be known as the Twisted Sisters. The name was inspired by a Bible study book that highlighted the struggle we all have with our internal selves, battling to choose to follow God's way instead of our own selfish ways (Romans 7:14-28).
Since I was back in Baton Rouge for a Ladies' Day this past weekend, a few ladies from that original group gathered for a meal to talk, laugh, pray, and share in each other's lives. My Twisted Sisters are a diverse group of women, connected in Christ: all young at heart, spanning several generations, we are married, single, kids, no kids, grandkids...
And they have continued to serve as Iron Rose Sisters—iron sharpening iron, encouraging me and others to be as beautiful as a rose in spite a few thorns.
These relationships are impossible without Christ in the center. And God has designed us to not have to go it alone. The body of Christ, with all of its unique members, was created to work together, spur one another on, encourage, challenge, and lift up each other.
These Twisted Sisters represent many other similar groups in other cities across the world. When I share with other women about what it means to be and have an Iron Rose Sister, I am blessed to have many personal stories to draw from, inspiring women to bless others through deep and meaningful relationships. I am eternally grateful to God for providing those Christian brothers and sisters, friends and family when I have needed them most.
And I am honored to share those stories from my life and from Scripture in order to inspire other women to rise to the challenges God has called us to.
Thank you for praying that God will use me as His instrument to equip women to connect to God and one another more deeply. And may you also give thanks today for the Iron Rose Sisters (or Twisted Sisters) in your life.