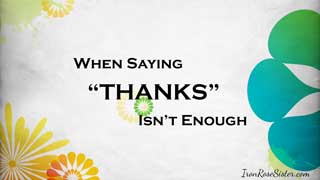 Have you ever received something for which you are deeply grateful? We are speechless. Maybe it was a surprise, an unexpected gift, or an undeserved blessing. We feel inadequate in our expression of thanks and our words seem cheap in thanking the person.
I have a friend who always seeks a way to bless others.
Another friend never tires in her service to the Lord and preaching the good news to others.
If you were to ask either of these friends about their motivation, they would tell you that they see it as the only way to express their thanks to God for all He has done in their lives.
God wants us to thank Him for what He has done and what He has given us. But there are many other ways to express our thanks. God loves when we thank Him verbally, but He also wants us to live a life of thanks.
When we recognize the depth of His love and unmerited blessings, "Thanks," just isn't enough... We long for a better way to express ourselves. How can we live a life of thanksgiving?