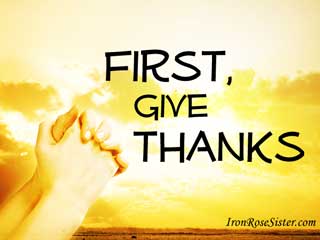 I want. I need. I wish. I hope. I. I. I.
We may think we know what's best. We make our petitions known and in crying out to God, it is easy to become more consumed with our needs than our blessings. By focusing on what we lack instead of what we have, our perspective is skewed.
Paul spelled out the necessary balance when we present our requests to God in Philippians 4:6.
Do not be anxious about anything, but in every situation, by prayer and petition, WITH THANKSGIVING, present your requests to God.
What happens when I start my prayers with thanksgiving?
Blessings outweigh needs.
Focus changes.
Perspective is clarified.
God's faithfulness endures.
Trust in God is restored.