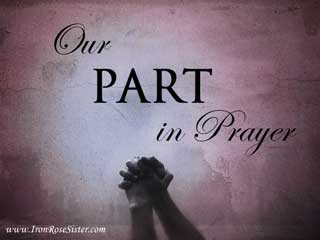 There are various ways to pray and patterns for prayer. The command to "pray without ceasing" (1 Thes. 5:16) does not specify how we are to pray.
Jesus provides one pattern and instructions in Matthew 6 and Luke 11.
Another pattern to follow is to look at our PART in prayer—the four elements of prayer listed below.
For today's spiritual discipline, I invite you to pray using this structure.
Our PART:
Praise – Luke 4:8, John 4:23-24 (worship our Creator and heavenly Father – an example: make a list of the names or characteristics of God alphabetically)
Admit – 1 John 1:9, Romans 10:9 (recognize our condition as sinner before God and confess specific sins we're working on)
Request – Philippians 4:6, John 14:13-14 (make our requests to God – for yourself, for others, for the church...)
Thanks – Philippians 4:6, 1 Thes. 5:18 (give thanks to God for the many blessings he has showered on you—physical, spiritual, and other blessings)