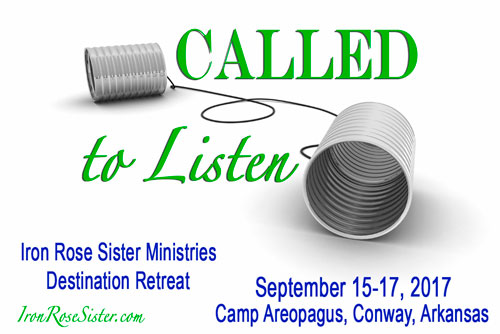 "A voice came from the cloud, saying, "This is my Son, whom I have chosen; listen to him." (Luke 9:35)
The time is drawing closer for us to step away from the noise of life in the beautiful state of Arkansas and join together as a group of women, Called to Listen. Iron Rose Sister Ministries (IRSM) will provide multiple opportunities to listen at its second Destination Retreat, September 15-17, 2017.
Our Heavenly Father has a message that we have each been called to hear, but are you listening? In the midst of a noisy world, listening has become a lost art. We know that "anyone with ears to hear should listen and understand" (NLT). But how should we listen? What is God saying?
We may never experience God's voice through a burning bush like Moses, but we can hear His voice through His Word, through nature, through Christian brothers and sisters, even through silence… But again, the question we must ask ourselves is, "Are we listening?"
The IRSM Destination Retreat will also serve as the kick-off for Called to Listen: 40 Days of Devotion.
Why is the cost $100? Delightful details about what your regstration cost includes!
Invitación especial para nuestras hermanas hispanohablantes

Logistical Details
Optional arrival on Thursday for shopping, hiking, and additional time with Christian sisters. Ideas for what to do around Conway.
Registration begins Friday afternoon. Event begins with dinner and lesson on Friday night
Camp Areopagus is east of Conway, Arkansas, about an hour from the Little Rock airport (See Google map.) 53 Iroquois Lane (at the end of the street, through a neighborhood; location map)
Lodging in cabins at the camp is available for the first 100 women who register
Financial Details
Early Registration Deadline:

Extended

to August 21st, after which fees go up $15.
$100 if you stay at Camp Areopagus (Friday and Saturday nights), includes Friday dinner through Sunday breakfast, snacks, and other retreat items
Reserve your spot today with a $20 non-refundable deposit
| | |
| --- | --- |
| | Or use this button to pay your balance (enter the amount) |
Checks, made out to IRSM, can be mailed to:
Iron Rose Sister Ministries PO Box 1351 Searcy, AR 72145
Once you have paid online or mailed a check, PLEASE ALSO REGISTER so we can prepare for your arrival! Early Registration Deadline Extended to August 21st, after which fees go up $15.
Additional Information
No childcare will be offered
As a small non-profit hosting this event, every aspect of the cost of this event is based on registration fees and donations. If you are wiling or able to help someone with a scholarship, or are able to make a donation to IRSM for this event, visit our donate page.
Print off some 4x6 postcards to give/mail to your friends!